Lake Naivasha National Park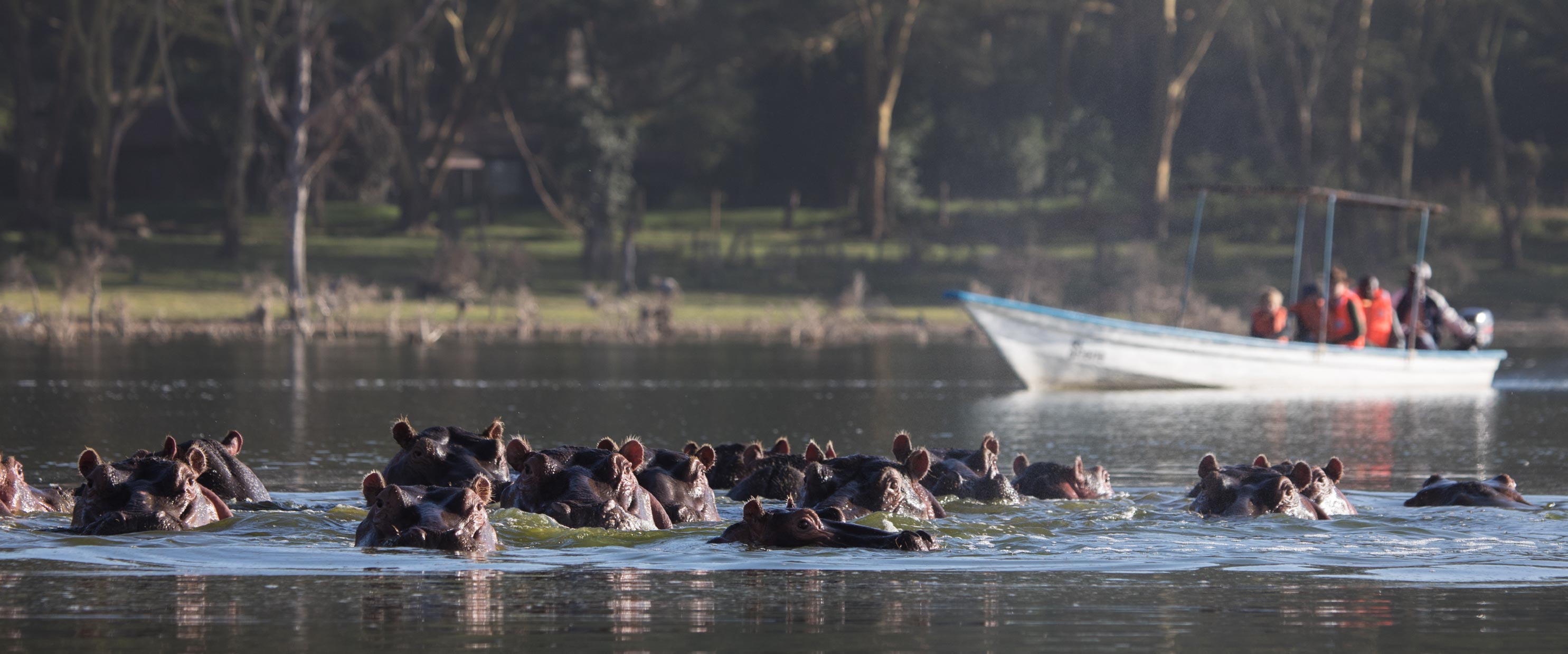 Deep blue lakes, rich acacia forests, extinct volcanoes, waterfalls, imposing towers and bottomless gorges – you'll be amazed at the variety and drama of the parks, lakes and preserves surrounding Lake Naivasha.
Here the birdlife is full, varied and constant as is the parade of wildlife with over 100 species of hunters and grazers.
As befitting such a variety of landforms, you'll find more types of safaris here than anywhere else on earth…each one allowing you to enjoy a different aspect of the wildlife! Take a water safari to get close to the birdlife, then hike, bike or even horseback ride past zebra, giraffe and antelope. The possibilities, like the wildlife, are endless.
The Lake Naivasha Area is a constant gift of surprise, color and nature's bounty. You'll find plenty for everyone here.
The parks, preserves, lakes and attractions described below are all a short drive from each other.
About Lake Naivasha Park
This high-altitude, freshwater lake with its sterling blue waters hosts hippo and many other aquatic life. You can take a water safari and enjoy the rich birdlife of cormorant and pelican while zebra and antelope graze nearby on the shore.
The area is characterized by plentiful acacia trees and flower farms awash with roses and carnations.
The lake also serves as a life-giving watering hole for buffalo, eland, impala and waterbuck so be ready for lots of active game viewing. And it's not impossible to come upon a leopard during a game drive.
The most famous personality of the area was Joy Adamson, naturalist and author of "Born Free", who lived here on the lake's shores. Her experiences raising the lion cub, Elsa, became an international best seller and award-winning movie.
Things to do in Naivasha
From Lake Naivasha it's an easy drive or you can even walk to other activities.
Horseback Riding Safari
What better way to view and get up close to the wildlife than to be astride an animal yourself! In the Naivasha area at Sanctuary Farm you can take the most unique type of safari – a guided day tour on horseback.
The land here is heavy with acacia trees and you'll traverse this rich forest coming upon giraffe, wildebeest, impala, zebra, gazelle, dik-dik and buffalo.
Your horse is familiar with this territory and the animals so it will let you ride up close to the wildlife. And since you are astride the horse, you are in a sense "camouflaged" – appearing to be as one with your ride. You can't experience the wildlife any closer than this.
Whether you're a novice or an advanced rider, your horseback safari will be tailored to your experience level. What an unforgettable way to enjoy the wildlife of Naivasha!
Crescent Island Game Sanctuary
From Sanctuary Farm you can walk across a nearby causeway to this privately-owned game sanctuary. Crescent Island is a small gem of a park and not overly visited as some others are.
You can take an easy stroll and picnic alongside the rich birdlife and gently grazing wildlife. Or, enjoy a guided walking safari observing pelicans and cormorants along the shore.
You'll also find buffalo, zebra, giraffe, impala, gazelle and many others. In fact, there are more animals per acre here than any other Kenyan Park.
The area is not fenced, so the animals are free to move between the sanctuary and the mainland as groups of buffalo are inclined to do.
For a perfect finish to your day, go to the top of the hill here with its 360o views including Lake Naivasha and Hell's Gate Park. As the gold of sunset approaches washing over the grazing animals, you'll treasure a perfect Africa moment.
Hell's Gate National Park
Also, a quick jaunt away are the dramatic cliffs, canyons and unearthly steam vents of Hell's Gate National Park. You'll find many opportunities for hiking and even bicycling past the impala, eland, gazelle, baboon and buffalo inhabiting the park.
Great columns of steam billow up from the springs and geysers here, and you can take a dip in Africa's largest natural mineral pool.
Very large predators are quite rare, so the park is safe and family friendly with its many guided trails. You'll have opportunities to view the rare bearded vulture and Verreaux's eagle up close.
And if climbing is your thing, the volcanic cones of Fisher's and Central tower are fun and accessible climbs.
Finally, at Hell's Gate Gorge view the rock formation that was the inspiration behind 'Pride Rock' from the movie, "The Lion King". Learn more about Hell's Gate National Park.
Crater Lake Game Sanctuary
True to its name, Crater Lake is a small but stunning jade-colored volcanic lake. From this center the sanctuary extends with many hiking trails including one along the crater rim.
There are easily over 20 scenic vistas along this impressive crater walk.
From this vantage point you can take in the 150 species of birds of the sanctuary and larger species like giraffe, zebra and elusive leopard and aardvark.
The park is adorned with small groves of acacia trees adding to the magical feeling here.
The lake conjures up an almost mystical respect amongst the local Maasai people who believe its waters help heal their ailing cattle.
Mount Longonot National Park
Ever climb a volcano? Here you can and enjoy fabulous views along the way.
Mount Longonot (2776 m /9107 ft.) is an extinct volcano that last erupted in the 1860's. Mt. Longonot National Park was created to protect the volcano and its environs. The word 'Longonot' comes from the Maasai name Olo Nongot which means 'Mountain of Many Summits.'
You can hike to the crater rim on a 3.1 km (1.9 mi) trail that starts at the park entrance. It should take about 2 hours. Should you desire to hike around the crater there is a 7.2 km (4.5 m) loop that is a bit challenging.
At the crater's rim, you'll be rewarded with views of the 3 km (1.8 m) wide crater and a forest covering the crater floor. There is still some geothermal activity occurring on this volcano that formed 400,000 years ago. Look for small steam vents along the walls of the crater.
This volcano and forest are home to zebra, giraffe, gazelle, buffalo and hartebeest. And occasionally a leopard has been spotted.
Looking beyond the crater affords wonderful views of the Rift Valley and Lake Naivasha.
Lake Nakuru National Park
Close to Lake Naivasha is one of Kenya's most colourful reserves – Lake Nakuru National Park. Bright pink flamingoes abound here, sometimes in the millions, while endangered rhinos wallow amongst the birds, presenting a pictorial paradise.
As if to compete for the best spectacle, the land shows itself off with immense rocky escarpments, dense acacia forests, wooded hills and unexpected waterfalls.
You'll find other birdlife here with an abundance of pelicans, cormorants, kingfisher, ostrich, stork as well as herons and eagles.
The endangered and rare Rothschild's giraffe are protected in the park and you'll also be on the watch for lion, leopard, cheetah and the entertaining baboon, vervet and colobus monkeys.
Be sure to visit the park's several viewpoints where you'll be greeted with vistas of the Rift Valley. Lion Hill, Out of Africa Lookout and Baboon Cliff are favorites. We have created a page dedicated to this park, make sure to find out more about Lake Nakuru.

Plan Your Lake Naivasha Safari with Pride Drive Tours
Pride Drive Tour Solutions offers dozens of tours to Lake Naivasha and its surrounding parks and attractions. We will also design a custom safari experience according to your interests and wishes. It's our mission to create an unforgettable holiday just for you!
Please click here to view tours to Lake Naivasha and dozens of our other Kenya safaris.