A RICH RAINFOREST WITH CHIMPS AND MONKEYS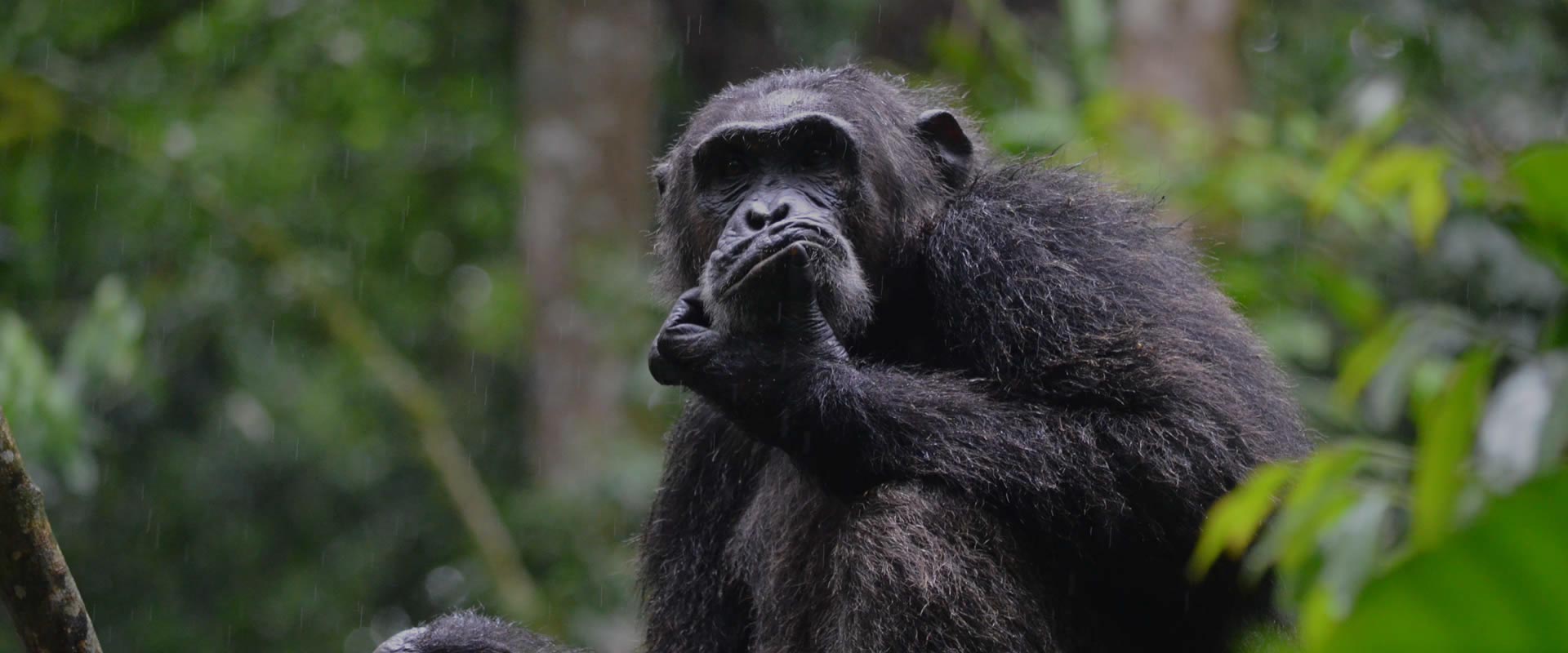 It offers visitors the highest density and diversity of primates in all of Africa. For chimpanzee trekking, it's not only the best place in Uganda but perhaps the world. The lovely rainforests of Kibale National Park are a deep primeval environment of rich animal encounters unlike any you'll see elsewhere. Make sure to add this safari park to your must-see list.
The park hosts 70 types of mammals, of which 13 are primates, its most famous species being the 1,450 chimpanzees found here – Uganda's largest population. This may be the park's biggest draw – the opportunity to go trekking and discover these fascinating creatures who share 98 percent of our DNA.
A typical trek lasts from 2 – 5 hours and you'll get to spend about an hour observing these intelligent primates, swinging from trees, playing, feeding, and scampering about. Your success at finding a group of chimps in the wild is unusually high – 99 percent. Compare this to the 20 percent chance of only a few years ago. This is because the park rangers have carried out a program of chimpanzee habituation – an exposure in which people volunteer to spend time with the chimps, getting them accustomed to their human cousins.
Visitors can take part in this habituation process and enjoy much more time with the chimps than a trek would allow – up to 6 hours.
Besides the great numbers of chimps in the park, visitors will be delighted to come across great and varied populations of monkeys such as the rare L'Hoest's monkey, red colobus monkeys, black and white colobus monkeys, red-tailed monkeys, olive baboons, and bush baby.
As to more traditional African safari animals, the park also hosts bushbucks, buffaloes, leopards, warthogs, duikers, and African golden cats. Less commonly seen are the occasional lion. Forest elephants make their presence known here and travel between Kibale and nearby Queen Elizabeth Park along a 180 km (111 mi) natural corridor connecting the two parks.
Along your trail walks you'll get to soak up the park's habitats of rich tropical forest, woodland, and savannah. Looking up at the canopy overhead, you're certain to spot some of Kibale's 375 species of birdlife and a dazzling 250 species of butterflies.
All this biodiversity lends itself to a world of natural discovery and Kibale is one of Africa's most established research sites. Besides the study of its chimpanzees and other primates, the park's ecosystem is also a subject of the ongoing research being done here.

About Kibale National Park
Location: Located in western Uganda, Kibale is 766 sq. km (296 sq. mi) situated 35 km (21.7 mi) southeast of Fort Portal. Its elevation varies from 1,100 m (3608 ft) to its highest point at 1,590m (5216 ft).
Climate: The Park's northern sector receives the most rainfall from March through May and September to November. The climate is pleasant with temperatures ranging from 14°C (57°F) up to 27°C (80°F).
When to go: The Park is open year-round.
Best time to visit: December through February and June and July are the driest months and the best for walking the trails, seeing the chimpanzees, and most other activities. However, during the wetter months, the bird watching is excellent.
Getting there: By road – take a Pride Drive Tours tour from Kampala – you can get to the park in under an hour.
Things to do and see
Chimpanzee Trekking – 90% of Kibale's visitors come to the park as it promises the best opportunity to view chimps in Africa.
Chimpanzee Habituation – Similar to trekking but visitors can help habituate the chimps to the human presence, spending up to 6 hours with these wonderful and curious creatures.

Kibale Forest Walk – This 12 km (7.5 mi) walk takes you through swamplands, grasslands, riverine woods, and tropical forests, exploring the park's primates, elephants, and birds while enjoying the spectacular scenery.
Bigodi Swamp Walk – A jungle swamp, Bigodi is known as the perfect spot for bird watching. This 2 – 3 hours walk through papyrus reeds and palm trees will also provide sightings of the different primate species.
Amabere Ga Nyina Mwiru – These are special rocks set by a unique waterfall – a featured setting in the myths of the nearby Batoro tribe people.
Crater Lakes Tour – Hiking up these local volcanic slopes will bring you to a vista of over 50 crater lakes. Unusual and quite beautiful, many visitors add this tour to their visit.
Discover Kibale National Park                                     
A dense, verdant park rewarding visitors with over 350 species of trees, some over 200 years old, Kibale presents a well-rounded experience of diverse habitats and rich animal life – especially primates. Practically synonymous with chimpanzee trekking, this is the place to visit and discover our fascinating animal cousins.
Kibale National Park with Pride Drive Tours               
Join us on safari to one of Uganda's most versatile parks to experience its many diverse primates. Just contact Pride Drive Tours. Welcome to Pride Drive Tours for your own personalized safari adventure. We have safaris departing Kigali, Rwanda, and Entebbe.