Mt Kenyan National Park

Towering Above the Others
It's the second highest mountain in Africa. It borders the equator, yet it supports 12 glaciers, plus pristine lakes, tarns and dense alpine forest. This is Mt. Kenya National Park – a land and a world away from all the other national parks.
The climbing is excellent, as is the camping. And when the mists burn off, the vistas are magnificent. Here, in this UNESCO World Heritage Site you can begin your trek in tropical forest, spotting buffalo and elephant.
You'll then ascend to bamboo forest perhaps spotting Colubus and other monkeys. You can also find antelope and giant forest hogs in this dense wooded terrain. Your trek continues into alpine moorlands which will present bizarre flora like the towering giant lobelia.
As you advance up the mountain, you'll move into glacier country – a barren moonscape of rock, ice and snow. Finally, you'll arrive at the pinnacle of this extinct volcano overseeing sweeping views of the Kenyan highlands.
This, of course, is the main draw of Mt. Kenya Park – the chance to climb a lofty summit rising above the heat and savannahs of Africa and partake in the deep wilderness panorama.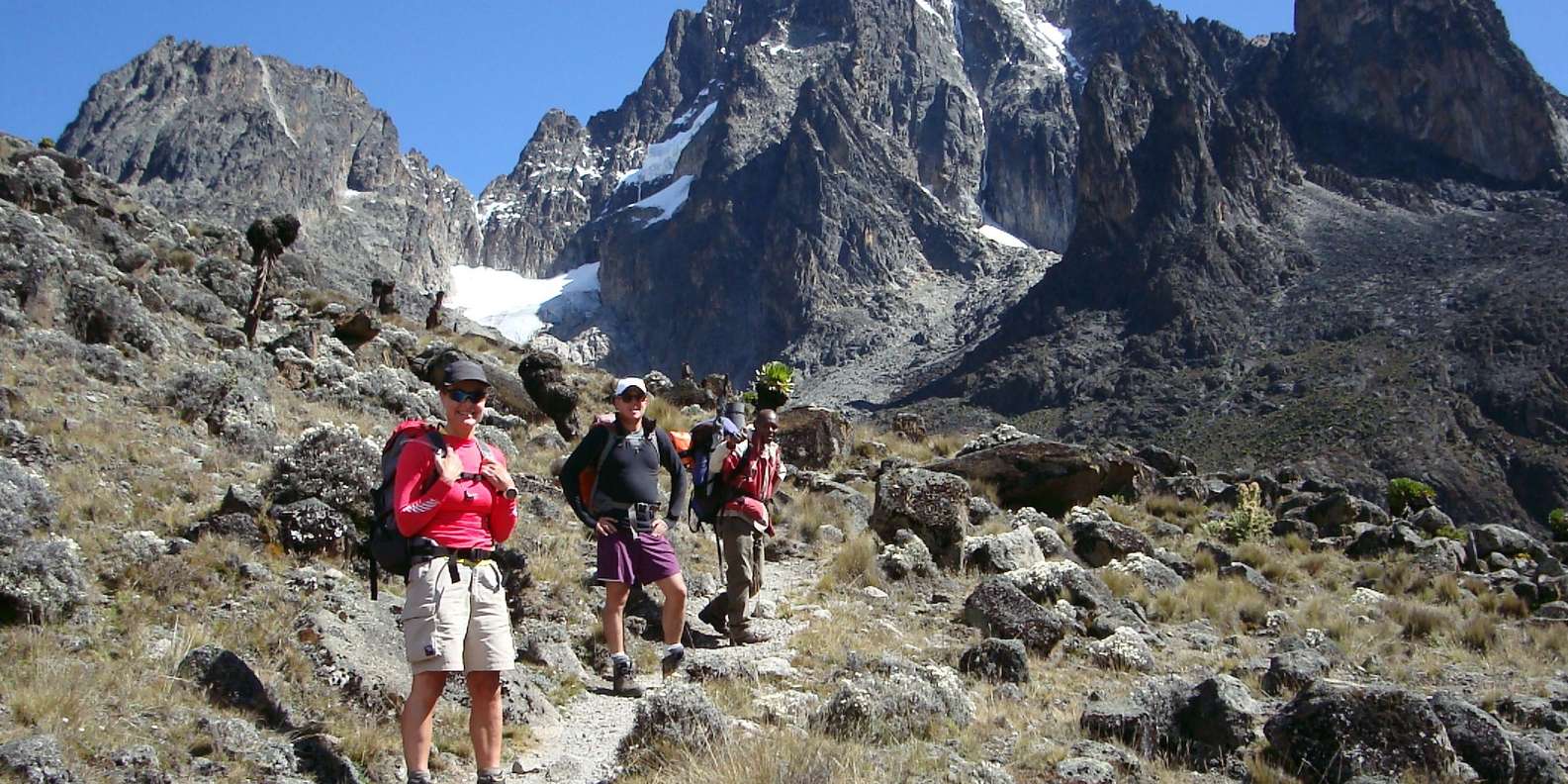 A Park like No Other
There were several important reasons for establishing this park in 1949. Mt. Kenya itself, the surrounding wildlife and its environment were all in need of the protections a park designation would bring. Plus, the area is a major catchment of water supplying several large river systems in Kenya.
Long a favorite of climbers, the stately mountain has 7 routes to the summit. Of Mt. Kenya's 3 peaks – Batian (5199m/17,057 ft), Nelion (5188m/17,021 ft) and Point Lenana (4985m/16,354 ft) – only this last can be ascended by regular visitors. The other taller peaks remain in the realm of advanced technical mountaineers.
Climbing at these elevations can be challenging and it is recommended that climbers spend a minimum of 3 nights to acclimatise to prevent altitude sickness.
Beginning your climb at the mountain's tropical base, you'll be welcomed by the park's prolific birdlife. As you trek up through the forests and moors, watch for sunbirds, eagles and other avian life in this towering park.

About Mt. Kenya Park
The park covers 700 sq. km (270 sq. mi). Its vertical border begins at 3200m (11,000 ft) and extends up to 5199m (17,058 ft), including the mountain's peaks. The area surrounding the park is designated as the Mt. Kenya Reserve.
Location:
Mt. Kenya lies 175 km (108 mi) north of Nairobi and its northern section borders the equator.
Climate:
Because Mt. Kenya is more or less a vertical park, the climate changes as you ascend the mountain. Expect big temperature changes between the day and night, with lows at 4oC/39oF. Owing to its elevation, the mountain tends to be wet.
Best time to visit:
The best climbing is during the two dry seasons – January/February and August/September. During the two rainy seasons, the trails are more difficult, and the visibility is poor.
Getting there:
You can book a tour with Pride Drive Tour Solutions from Nairobi. The park is reached on the Nanyuki-Isiolo road. There is an asphalt road that circles the base of the mountain, linking the area towns of Naro Moru, Nanyuki, Meru and Embu.
By air: The closest airstrips to Mt. Kenya are at Nanyuki or the Laikipia Airport.
Things to do and see
Climbing/Trekking
Challenge yourself to this invigorating climb while enjoying some of the most beautiful (and changing) scenery as you hike past Mt. Kenya's stunning lakes, tarns, glaciers and peaks.
Highland Castle
On the Burguret Route heading up the mountain, at 3700m (12,139 ft.) you can scramble up this castle-like formation and take in beautiful views of the Batian and Nelion peaks.
Camping & Caving
Shipton's Camp is located just beneath the summit and is set amongst the snow-capped peaks. There is an alpine hut here where climbers can rent bunks and rest the night before summiting the mountain. Nearby are Shipton's Caves, an adventurous spot for exploring.
Discover Mt. Kenya National Park
Many feel this second largest mountain in Africa is its most beautiful. You may come to agree as you trek this wilderness through several eco-zones, experiencing glaciers, lakes and vistas that few ever get to see.
Join us on safari to this most unusual vertical park. We have safaris departing from Nairobi going to Mt. Kenya and other prime Kenya Parks.
Are you ready to pick from our latest offering of Kenya safari holidays?