The Giraffe Center
Feed a Giraffe. Kiss A Giraffe.
Where else in the world can you go eye to eye with a towering giraffe, hand feeding him (or her) a food pellet and watch up close as their long green tongue happily takes your offering. And then surprise – a moment later you get a kiss from that same giant giraffe tongue.
This could only be The Giraffe Centre, in Nairobi, a favourite refuge for giraffe lovers, conservationists, school children and happy visitors seeking to learn about and wanting to meet the Centre's famous Rothschild giraffes.
For 40 years, the Centre has saved and restored the population of this endangered subspecies of giraffe. At the same time, it has provided opportunities for its millions of visitors to be delighted and informed about these special creatures.
Climb the feeding platform and offer a food pellet to one of the Centre's giraffes. Or, stop at the Information Centre to learn how these endangered animals are being taken care of, bred, and eventually released back into the wild.
There's even a winding Nature Trail here for spotting birds, warthogs, dik-dik and more.

An Idea Is Born
The story of this most unique sanctuary started in 1979 when Jock and Betty Leslie-Melville discovered the unfortunate state of the Rothschild's giraffe. Once abundant throughout Africa, the giraffes' numbers had been reduced to a mere 130.
Jock and Betty brought two of the young giraffes, named Daisy and Marlon, to their expansive property in the Lang'ata suburb in Nairobi. Here they began a successful breeding program that continues to the present.
Officially, to raise funds for the project, Jock created the umbrella organization: African Fund for Endangered Wildlife (AFEW). But to its friends, donors, and visitors this unique sanctuary is known as The Giraffe Centre.
The Idea Grows – An Education Centre
Shortly after founding the sanctuary, Jock and Betty Leslie-Melville realized the importance of educating the children of Kenya as to their heritage and the conservation of its wildlife. So, an environmental education centre was opened in 1983 and free tours were offered to Kenya's next generation. Every year over 50,000 youngsters learn about the giraffe along with conservation ideas about protecting the environment.
This is in addition to the 40,000 visitors from the general public who come each year to be entertained and enlightened through the Centre's many resources.
Visitors learn how the giraffe calves are nurtured and released into the wild when they are two to three years old and strong enough to survive.
To date, more than 40 of these Centre born and raised calves have been released into game parks and conservancies throughout Kenya.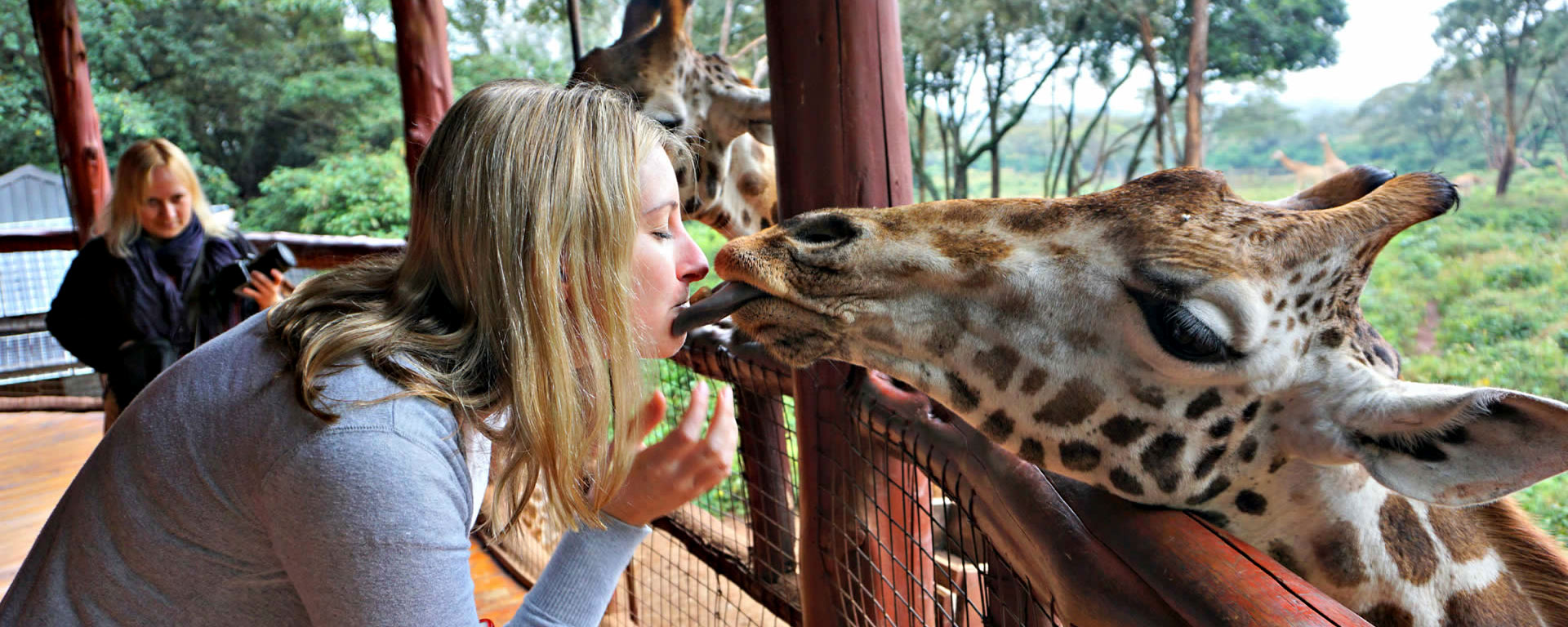 About The Giraffe Centre
Location: In the suburb of Lang'ata, about 20km (12mi) from the centre of Nairobi.
Climate: Nairobi is warm with a significant amount of rainfall throughout the year. The temperature here averages 20oC/68oF.
Operating Hours: The Centre is open from 09:00 hrs. To 17:00 hrs. Daily, including weekends and holidays.
Getting there: You can book a tour with Pride Drive Tour Solutions in Nairobi.
By air: Jomo Kenyatta International Airport is the main aviation hub serving the capital of Nairobi.
Things to Do and See
Tea House– In addition to its feeding platform, giraffe watching and nature trails, The Centre offers more giraffe viewing from its Tea House, with refreshments and relaxing vistas.
Daisy Souvenir Shop – Named for Daisy – one of The Centre's original inhabitants – the gift shop is a popular stop for memorabilia. The Centre gets 90 percent of its revenue from entrance fees and sales from the gift shop.
Books, Posters & Literature – The Centre creates a variety of informative materials such as its Nature Trail Guidebook, manuals on conservation practices and environmental awareness posters.
Giraffe Manor – Located adjacent to the Giraffe Centre, this Tudor-style boutique hotel may be the most unique accommodation in the world. Here it is not unusual to enjoy breakfast as a towering giraffe sticks its head through the window to inspect your eggs and toast.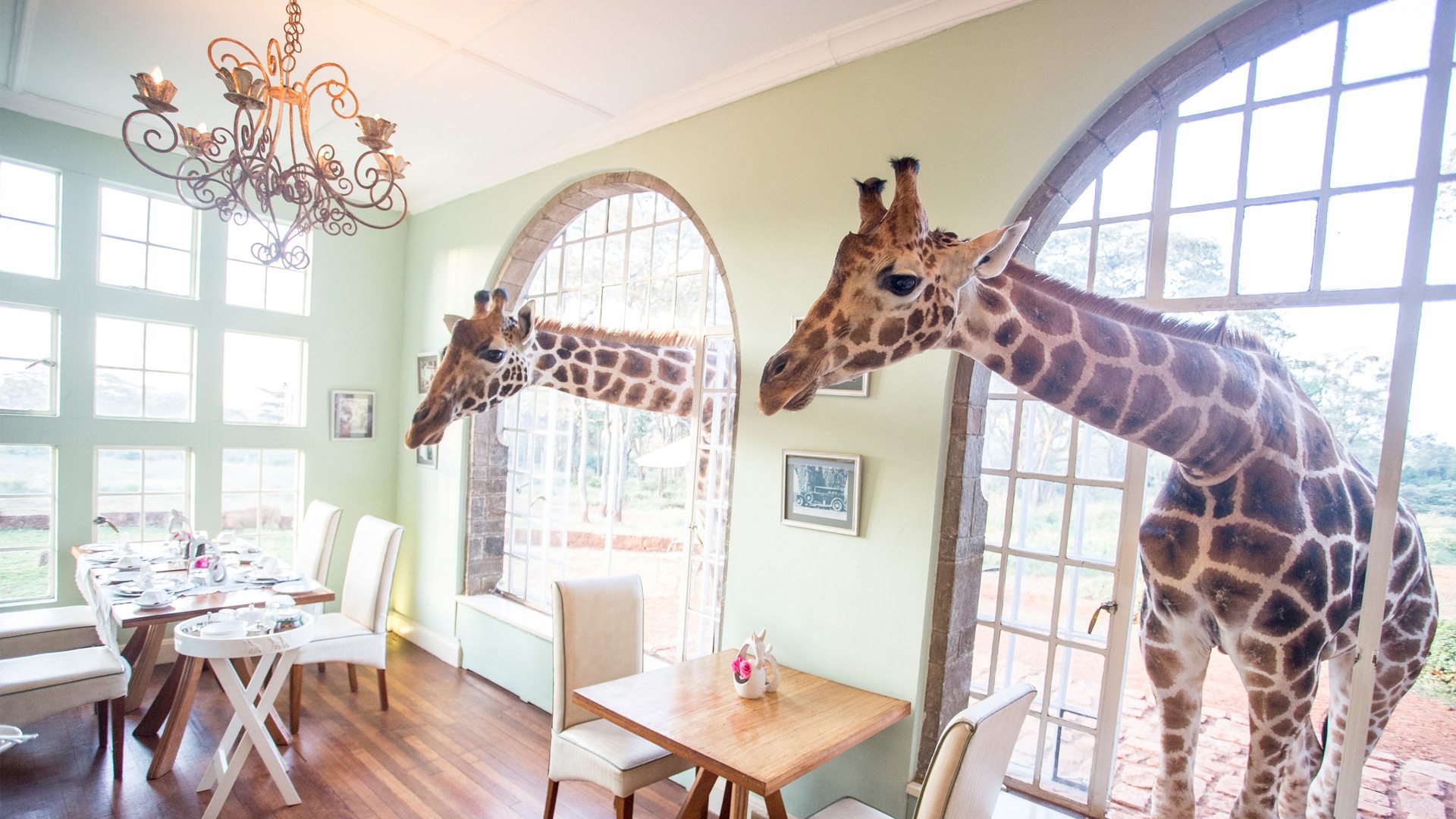 Discover The Giraffe Centre
Few, if any sanctuaries allow you to get this close to the animals, let alone get a kiss! The Centre is a delightful mix of sightseeing, information and conservation. Throw in lots of excited school children and your experience here will be one you'll be talking about for years.
The Giraffe Centre with Pride Drive Tour Solutions
Take a Pride Drive Tour Solutions city excursion to The Giraffe Centre for an experience you'll not soon forget.
We have safaris departing from the capital to this and other special Kenya Parks and attractions for your Africa holiday.